T

he U.S. Chamber Institute for Legal Reform (ILR) has published its annual study on the legal climate in each state, and the findings are, well, what you'd probably expect. The survey of 957 general counsel and senior corporate litigators shows that only 3% view the fairness and reasonableness of the state court liability system in the U.S. as "excellent," while 55% characterize it as "fair" or "poor."
Of great importance to the economic development community: 64% of respondents stated the litigation environment in a state is likely to impact corporate decisions about locating facilities or doing business in a particular locale. This is up from 57% in last year's study.
The states cited as having the most attractive state liability systems were Delaware, Nebraska, Maine, Indiana and Utah. The worst rated states were Illinois, Alabama, Mississippi, Louisiana and bringing up the rear, West Virginia. These five states were also ranked at the bottom of the list last year.
Five cities and counties were singled out as having particularly unfair litigation environments: Los Angeles, Chicago/Cook County, and several cities and counties in Texas.
The accompanying map shows those states that experienced the largest gain or drop in ranking from 2007 to 2008, excluding Alaska and Hawaii. The big winner was Oklahoma, which jumped 21 spots in the rankings, followed by Vermont and Colorado.
Wisconsin and Tennessee were the big losers, falling 14 and 15 spots, respectively, from 2007 to 2008.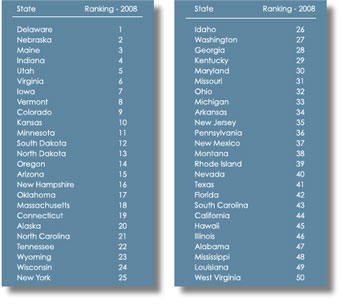 [Place cursor over graph to enlarge]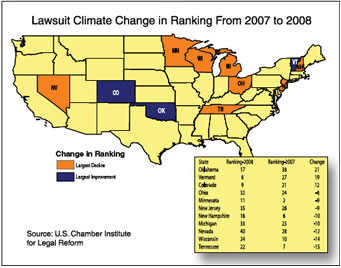 [Place cursor over map to enlarge]