H

ealth care regulators seem to have taken a page out of Henry Ford's book when it comes to state-level health care insurance coverage mandates for small groups and individuals…consumers can buy anything they want, as long as it includes the coverage mandates state insurance regulators dictate.
Inter-state differences in medical insurance regulations have created a patchwork of coverage mandates that vary widely from state to state, with the kind of cost variability one would expect in an industry where state health insurance regulators dictate what will and will not be covered, rather than leaving these decisions to the marketplace.
The Council for Affordable Health Insurance has completed a state-by-state analysis of health insurance coverage mandates for small groups and individuals, which documents measurable differences across the country.
Minnesota and Maryland top the U.S. with the largest number of mandates, requiring health insurance companies to offer coverage for problems such as alcoholism, breast reconstruction, cervical cancer screening, contraceptives, dental anesthesia, and over 50 other items. (See Map A)
Among the most expensive mandates are coverage for alcoholism, out-patient surgery, contraceptives, in vitro fertilization, morbid obesity, prescription drugs, smoking cessation, rehab services, well-child care, and the requirement that mental health conditions be covered at the same level as other health problems. The Council for Affordable Health Insurance estimates these collective mandates can increase the cost of a policy by 20% to 46%.
Of course many, if not most, policies already cover out-patient surgery, contraceptives, and some level of coverage for mental illness. But not all buyers of medical coverage may need or want benefits related to smoking cessation or in vitro fertilization, to name just a few.
A number of states mandate coverage for many "conditions" that most consumers may never need, and certainly don't want to pay for. For example, eight states require benefits for alcoholism and drug treatment, as well as in vitro fertilization.

(See Map B)
Among them is Maryland, which may take the (crab) cake for mandates at the expense of the consumer. In addition to the three treatment mandates above, Maryland also requires coverage for autism, hair prostheses and hearing aids, and that the services of chiropractors, marriage therapists and massage therapists be covered.
Are you a balding woman with a hearing loss whose bad back is causing problems in your marriage? Move to Maryland!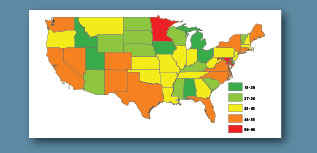 [Place cursor over map to enlarge]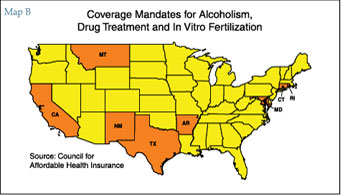 [Place cursor over map to enlarge]