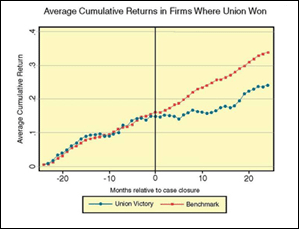 [Place cursor over chart to enlarge]
Lose an Election...Shed 10%
What is the cumulative impact of a labor union's burdensome seniority rules, work rules, grievance procedures, built-in wage inflation, and other contract mandates?
Research published by the National Bureau of Economic Research presents compelling evidence that stock markets "capture" these costs and they are reflected in the unionized company's market performance. The study suggests estimated abnormal post-election returns of about negative 10% in companies where unions won certification elections, measured over the two-year period following the union's victory.
The study analyzes all publicly traded firms that had NLRB representation elections between 1961 and 1999. The dataset includes 6,114 elections gleaned from a database of nearly 200,000 certification elections.
The study's authors analyzed stock market returns for each company for the 24 months prior to the certification election event, and for another 24 months following the election. The pre-election data were used to develop a predictive model for post-election returns for two panels of companies: those in which the union won; and those where the union lost the certification election. The predictive model accurately tracked actual returns in both panels in the 24 months before the election, and is viewed as an excellent predictor of what returns would have been during the next 24 months had an election not occurred.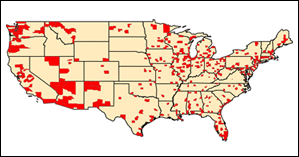 [Place cursor over map to enlarge]
The study firms' average returns are quite close to the predicted returns every month leading up to the election, for both the panel of firms where unions were victorious, as well as those where unions ultimately lost.
But at precisely the time of the election, the actual and predicted returns diverge for companies that lost elections. The pace of the value adjustment is slow, but steady and significant over the 24 months following the election.
In contrast, companies that beat the union continued to exhibit positive returns that track closely with the predicted values.
The amount of decline in union victory firms is correlated with the union margin of victory. The largest negative returns were experienced in companies in which unions won their elections by large margins. When unions win with greater than 60% of the vote, the cumulative return is -20 to -30%.
Union avoidance is an important site selection criterion for virtually every Walker client, so we have developed unique tools to assess the labor union environment anywhere in the U.S. This is illustrated in the accompanying map, which highlights every county in which the share of certification elections won by labor unions has exceeded the national average since 2006.