T

he long slide in private sector union membership is well documented. The decline began in 1953, when 35.7% of the private sector work force was organized. Last year, this figure stood at 7.6%, while public sector membership has held steady around 35-37% since the mid-1980s. As if this downward trend was not alarming enough to union leaders, a deeper dive into union member demographics paints an even grimmer picture of the future of organized labor.
For example, union membership rates have exhibited a steady decline across all major racial/ethnic groups. In 1995, 14.2% of all employed whites were union members, but this figure dropped to 13% in 2000 and now stands at 12.2%. Similar declines are exhibited among blacks and Hispanics. The drop among African Americans is particularly steep, falling from 19.9% to 14.5%.
The most significant trouble sign for organized labor is the changing makeup of the work force as baby boomers approach retirement. As shown on the graph, over the period 1995-2008, there have been minute changes in the share of the work force comprised of workers less than 44 years of age. The number of employed 16-24 year olds has increased 2.7%, while 25-34 and 35-44 year olds fell by 1.6% and 0.3%, respectively.
The loss of union members in these age cohorts has been significant over the same period. Union membership has plunged 9% in the 16-24 year old group, 13.2% among 25-34 year olds, and 24% in the 35-44 year cohort. These groups combined represented over 60% of the work force in 2008, so it is clear organized labor has lost footing among younger workers.
Only among workers 65 or older did labor unions gain ground from 1995-2008, nearly doubling membership on jobs growth of 83%. But this is a hollow victory, as this age group comprises only 3.5% of the employed work force.
Since 2002, unions have also performed poorly across many industry sectors. While employment in the manufacturing and information sectors fell over the period 2002-2008, union membership attrition in these sectors was three to four times the rate of job loss. Even more troubling for organized labor is the loss of membership in industries which experienced job growth: retailing; transportation and warehousing; financial services and professional/business services.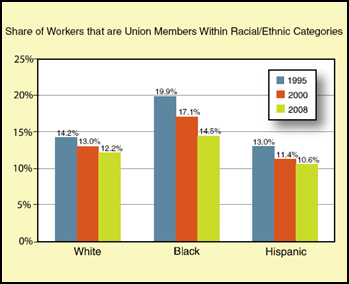 [Place cursor over graph to enlarge]
Only in the educational services, health care and leisure/hospitality sectors did union membership gains outstrip job growth. It's no coincidence these are sectors targeted by the very aggressive and successful Service Employees International Union (SEIU).
As successful as the SEIU has been in growing membership, the union's political spending is creating financial stress on the organization that may typify the situation across the labor movement in general. SEIU debt grew from $120 million in 2007 to more than $156 million last year, a 30% increase. Campaign and lobbying expenses doubled in 2008, reaching $67 million. The demographic trends described above indicate this sort of debt and spending cannot be sustained without substantial increases in membership.
Enter the beneficiary of this union largess…the Democratic party. With passage of the Employee Free Choice Act (EFCA) unions can count on government to do what the unions have not been able to do for themselves… lay the ground work for increased membership by enabling organizers to coerce workers to join.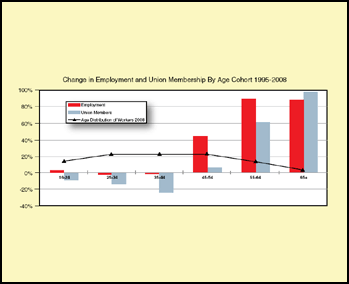 [Place cursor over graph to enlarge]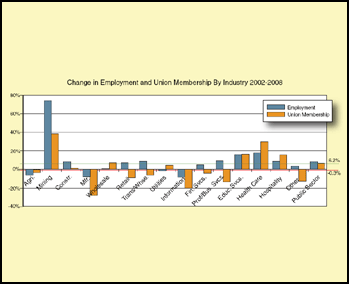 [Place cursor over graph to enlarge]