I

n addition to the numerous global industries whose profits are lost at sea in this worst recession since the 1930s, container freight volumes–and rates–are circling the drain as well.
In January 2009, the Baltic Dry Index (BDI), a composite survey which measures dry bulk shipping rates on 40 routes worldwide, was down over 90% since its record May 2008 highs of 11,000. (

See graph below.

) The net asset values of ships themselves have also sunk 70%.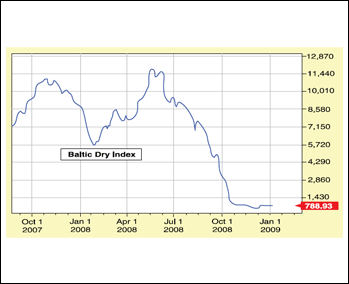 [Place cursor over graph to enlarge]
A number of crises capsized the shipping sector. At the helm is the global credit freeze by importing countries (especially the U.S.), drastically lowering global demand for Chinese products.
The World Bank estimates that global trade is set to fall by 2.1% in 2009 (its first decline since 1982), and much of the slump will be felt in the transpacific trade lanes.
What does this mean in dollars and cents? Rates for Capesize ships (the largest shipping vessels) that were priced at $230,000 a day in May 2008 took a nosedive to $20,000 in January 2009. The smaller Panamax-class shipping rates also sunk from $90,000 to $12,800 per day.
Maritime figures in April 2008 showed about 9,000 ships under construction worldwide–more than any time in history. Today, between 100 and 200 bulk carriers and 500 smaller ships are anchored awaiting better charter rates. Container shipping giant Maersk announced in December 2008 the lay up of eight of its 6,500 TEU vessels because "freight rates remain under severe pressure, and in several corridors the rates do not fully cover our variable costs."
Some investment analysts predict normalcy will return to the BDI with 2009 poised to be a bounce-back year for shipping stocks. However, Scott Burk, an ocean shipping analyst for investment bank Oppenheimer & Co., paints a pessimistic picture that forecasts "anemic" global dry bulk shipping demand with rates only rising slightly above break-even levels for the first six months of 2009.